A Beautiful Day LLC (Nani La 'Ao)
(808) 990-6838

Located in Orchidland Estates in a beautiful, natural setting on the East Side of the Island of Hawai'i in Kea'au. We are located just past the 4 mile marker, a short drive from Hilo.

Please note that the GPS directions are often incorrect. Please print a copy of the following:
From the Hilo airport, head towards Pahoa. Take Highway 130 and go just past the 4 mile marker.
Make a right at Pohaku PLACE. (This is just between Pohaku DRIVE and Pohaku CIRCLE.)
At the end, make a left, then your first right. This is Laniuma. Go up to 39th.
Make a right and then we are the 4th driveway on the left: 16-1436.
We strongly recommend arriving during daylight hours, anytime between 3 and 5 p.m.
We make every effort to greet you, but it is easy to check in by yourself. Just drive past the red stairs to the other side of the building and park next to the green stairs. Your unit is up the stairs on the left.

You will have a completely different experience here than in the usual hustle bustle of the city. Surrounded by magnificent rainbow eucalyptus trees, gorgeous tropical plants and flowers, you will be completely embraced by the sights and sounds of nature in all her glory.

When you arrive at "A Beautiful Day" you will know you are in a truly special place. You can see organic farming practices in action, along with a host of adorable storybook animal friends.
We love visitors who appreciate nature and beauty.

Our staff is friendly, professional, courteous and kind.
This is a special and unique place to stop and unwind, especially with a spa treatment. Our specialty is the warm stone Lomilomi massage.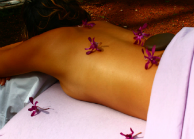 We are 20 minutes to Pahoa and 25 minutes from downtown Hilo and the Hilo
International Airport.

Our hours are from 9 a.m. till 5 p.m. daily.
We work by appointment only, so please call us ahead of time so that we can prepare everything for your special treatment, especially if it is a tandem.

Be sure to allow for extra driving time during high traffic times from 4-7 p.m. Also, some of the roads to the property are on gravel and can be rugged, so be prepared for a bit of a bumpy ride along the way.

If you are interested in film production and would like to view some of our location settings, click here http://www.kipukagraphics.net/scarden/locations.html

Currently there is a lava flow that is constantly changing. For more information about the lava flow please call (808) 961-8093. We are all excited about the volcanic activity and want you to be adequately prepared for your visit. If you have asthma or respiratory problems, you may wish to consult your physician before travelling to Hawaii Island.

This property is blessed with giant rainbow eucalyptus and other huge magnificent trees. The canopy of these trees act as a filter, so even when the rest of the island is experiencing air quality issues, we have cleaner air than almost anywhere else. There is plenty of shade even on hot days.

E-mail inquiries will usually be answered within 24-48 hours.
For faster service, please call us at (808) 990-6838

We truly want you to have an extraordinary experience.

For a calendar of events on the Island of Hawai'i, check out www.bigisland.org.

If you are interested in Hawaiian Wellness, Healing Retreats or Day Trips to any of the nearby destinations, please let us know.

Dreaming of swimming with wild dolphins? Check out http://www.wilddolphinswimshawaii.com/

If you want to know about what else is going on, Aloha Magazine www.alohamagazine.com is your online magazine about hawaii. They offer information about adventurous activities and lots of everything in between!
Find health spas, unbiased spa reviews, photos, treatments, and facilities for spas around the world.
http://healthspaguru.com

If you are a healer and would like to bring a group to our retreat, please give us a call and we will be happy to help create the perfect environment to suit your needs.

We look forward to making your visit an extraordinary experience that you will always remember!

Please be aware that there is a 24-hour cancellation policy for all spa treatments.
We look forward to your visit!

Call us today at (808) 990-6838